Project Director – Main Office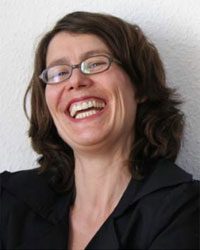 Heike Scharpff, Project Director
Heike Scharpff studied psychology in Marburg and is a co-founder of the independent theater Waggonhalle in Marburg, where the 'BALANCE – Bewegungstheater International' took place regularly. A three-year engagement as an assistant director at the Darmstadt State Theater followed. Since then she has been working as a freelance director at city theaters and in the independent scene (Schauspiel Leipzig, Oberhausen Theater, Münster City Theaters, Rheinisches Landestheater Neuss, TAT Frankfurt, Mousonturm Frankfurt/ Main, Theater Rampe Stuttgart, German Stage Service Marburg).
Her artistic work is characterized by a great affinity to dance. She became known through her social choreographies, "besitznichtbesitz" at the TAT Frankfurt and 'Attacke Alter' am Theater Oberhausen, among others, as well as documentary theater works: leidenschaftlich Hannah Arendt (Theaterzwang 2006 festival prize).
She then trained as a theater and drama therapist. She has also been working as a trainer and coach for a number of years and is involved in cultural politics.
Since August 2010 she has been working as the project director to establish the main office of the Stiftung TANZ – Transition Center Germany where she accompanies dancers in their process of transition.